SPRING QUARTER 2022

'Problem Solving: How to Respond to the World in a Time of Crisis', Prof. Katie Peterson and Prof. Meera Heller
This seminar, a collaboration between a poet and a veterinarian, poses the question "what can we learn about problem solving by investigating how different disciplines consider, and solve problems"? Is problem solving always solutions-based, or do certain modes of problem solving encourage a more descriptive, or expansive approach?
A thinking person's world is always full of problems. There is a good argument that the future belongs to the problem solvers -those who walk through the world and see what is to be done. We often emphasize the aspect of problem solving that's about finding solutions, but problem solving requires the ability to see a problem and articulate its shape. We're curious about how different kinds of thinkers recognize interesting problems, and find ways to meet their challenges.
In order to solve a problem, one must first understand it. Understanding a problem is complex and can mean different things depending on your vantage point, collaboration between individuals from different backgrounds can help to understand a problem more broadly.  In some disciplines, understanding a problem means to take a more global or expansive view, whereas in others understanding a problem means breaking it down into its smallest pieces.
Students will explore ways of expressing and examining problems, solvable and unsolvable and explore how "a problem" is posed in different disciplines such as science (the scientific method), medicine, poetry, politics, and the visual arts, collaborating with poet Forrest Gander and Indian sculptor Ashwini Bhat.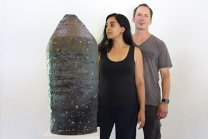 Associated Artists -Forrest Gander and Ashwini Bhat "Ritual Encounters"
In Ritual Encounters, the Mondavi Center's Vanderhoef Studio Theatre is reconfigured as a kind of temple that celebrates the secular, sacred environment of Mount Tamalpais. Visitors to this installation are invited to circle in a ritual walk ceramic monuments and biomorphic sculptures that are ringed by dirt mandalas that are themselves edged with hems (hymns) of words. Through immersion in video, sculpture, poetry, and the clockwise movement of their own bodies through the exhibition, viewers can experience (or recall) their own link to the non-human world, and to reevaluate the ground they stand upon, both physically and ethically.
Ritual Encounters is the work of artists Ashwini Bhat and Forrest Gander. Bhat's background is in literature and classical Indian dance, but she now works at the intersection of sculpture, ceramics, installation and performance. Gander is a writer and translator of poets from Spain, Latin America and Japan. His recent work includes the Pulitzer Prize-winning Be With.  
Visitors can experience Ritual Encounters from Friday, April 15 to May 6, 2022 in the Mondavi Center's Vanderhoef Studio Theatre. The experience will be open from 10 a.m. to 3 p.m. Monday through Saturdays. 
The installation will open on Friday, April 15, 2022 with an event from 7:30 p.m. - 9:30 p.m. Ashwini Bhat and Forrest Gander will be on hand to speak and share poetry. This event will be free to attend. The artists will make a final appearance on April 28th, 2022 at 7:30pm. This is also a free event.

Katie Peterson, Department of English
Professor Peterson received her B.A. from Stanford University in 1996 and her Ph.D. in English and American Literature and Language from Harvard University in 2006. She is the author of five collections of poetry, This One Tree (2006), Permission (2013), The Accounts (2013),  A Piece of Good News (2019) and Life in a Field, forthcoming in 2021. Her edition of the Brief Selected Poems of Robert Lowell was published in 2017. She writes poetry, nonfiction, and criticism, and she collaborates with her partner Young Suh, a photographer, who teaches in the Art Studio program at UC Davis. 
Dr. Peterson has received the following awards:
Radcliffe Fellowship, 2009
Foundation for Contemporary Artist Individual Artist Award, 2011
Rilke Prize from the University of North Texas, 2014
Literature Award from the American Academy of Arts and Letters, 2016
Chancellor's Fellowship, UC Davis, 2019
Finalist, Northern California Book Award, 2020
---

Meera Heller, School of Veterinary Medicine
Professor Heller received her B.A. from Stanford University in 1996, her DVM and Ph.D. from UC Davis in 2001 and 2009.  She completed a residency in large animal internal medicine at UC Davis in 2005, and is currently an associate professor of livestock medicine and surgery.  Clinical interests include medicine and surgery of sheep, goats and cattle.  Research interests include juvenile immunity, the innate immune system and infectious diseases of small ruminants (sheep and goats).
Dr. Heller has received the following awards: 
1995 Heidrich Major Grant, Program in Human Biology, Stanford University

1999 George and Helen Bailey Summer Externship Scholarship, University of California Davis

2000 Mixed Animal Track Scholarship, University of California Davis

2005 UC Davis Graduate Fellowship, University of California Davis, Graduate Program in Comparative Pathology

2005 Bernice Barbour Foundation Fellowship, University of California Davis

2008 American Association of Veterinary Immunologists Student Presentation Award, Second Place Poster Presentation, Conference of Research Workers in Animal Diseases (CRWAD) 89th Annual Meeting

2008 UC Davis Graduate Fellowship, University of California Davis, Graduate Program in Comparative Pathology